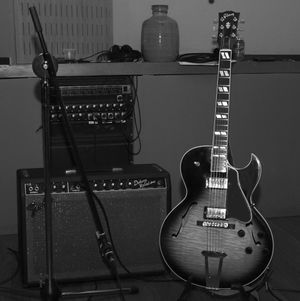 Bio
GUITARIST:
Jorge Cariglino is a jazz musician, guitarist, composer, arranger and producer. He was born in Buenos Aires where he studied with the most outstanding jazz musicians of the Buenos Aires scene, he developed his musical skills creating his own style based on the natural fusion of jazz with its cultural environment of the Rio de la Plata movement. He is an eclectic composer who, due to his long career, covers different styles but always with a very refined aesthetic and following the great stream of the jazz guitar masters, such as Wes Montgomery and Pat Martino. His guitar playing is fluid, virtuous, strong and his sound is warm and clean. He currently lives in Madrid, where he teaches jazz and contemporary music, as well as playing with his group throughout Spain. At the same time he composes and produces his own music. He has recently released his latest work with the Jorge Cariglino Trio "Espejismo-Mirage", the first recording of this Trio founded in 2018. He has shared stage and/or recorded with musicians as; Juan Carlos Cirigliano, Luis Vechio, Carlos Carli, Marcelo Peralta, Philip Catherine, Chris Kase, among many others. 
Teacher: 
Credentials / Background 
He has recently received recognition from the UK Corporate Live Wire/Spain Prestige Awards as "Guitar Teacher of the Year" 2021/22 for his long career and great experience  as a teacher in different educational centers teaching intermediate and higher level guitar classes. Currently more than 30 years of teaching experience in modern music. From the 2014 -15 course he is a professor of modern guitar and jazz ensembles at the University "Alfonso X El Sabio", UAX. During the 2003-04 and 2004-05 courses he teaches jazz guitar and jazz ensembles at the "Conservatorio Superior de Música de Navarra". Since 1999 - 2000 he is a professor at the "Escuela de Música Creativa" in Madrid where he teaches modern guitar, harmony, improvisation and jazz ensembles. From 1988 to 1997 in Buenos Aires, as a professor of modern guitar, arrangements and director of the Big Band of jazz students of the "Center for Musical Studies of Juan Carlos Cirigliano", (Astor Piazzolla's former pianist). 
Clinic / Workshop Information 
Courses taught at the "Escuela de Música Creativa" of Madrid. 2017 "Swing Band", 2016 "Swing Band", 2015 "Swing Band", 2014 "Gypsy Jazz", 2013 "Gypsy Jazz", 2012 "Gypsy Jazz", 2011 "Improvisation in Blues", 2010 "Improvisation in Blues", 2006 "Harmony applied to Improvisation", 2005 "The Jazz-Blues guitar" 1999 to 2002 dictates Seminars of jazz harmony, harmonic analysis and improvisation directed to classical musicians of the San Lorenzo del Escorial Conservatory.